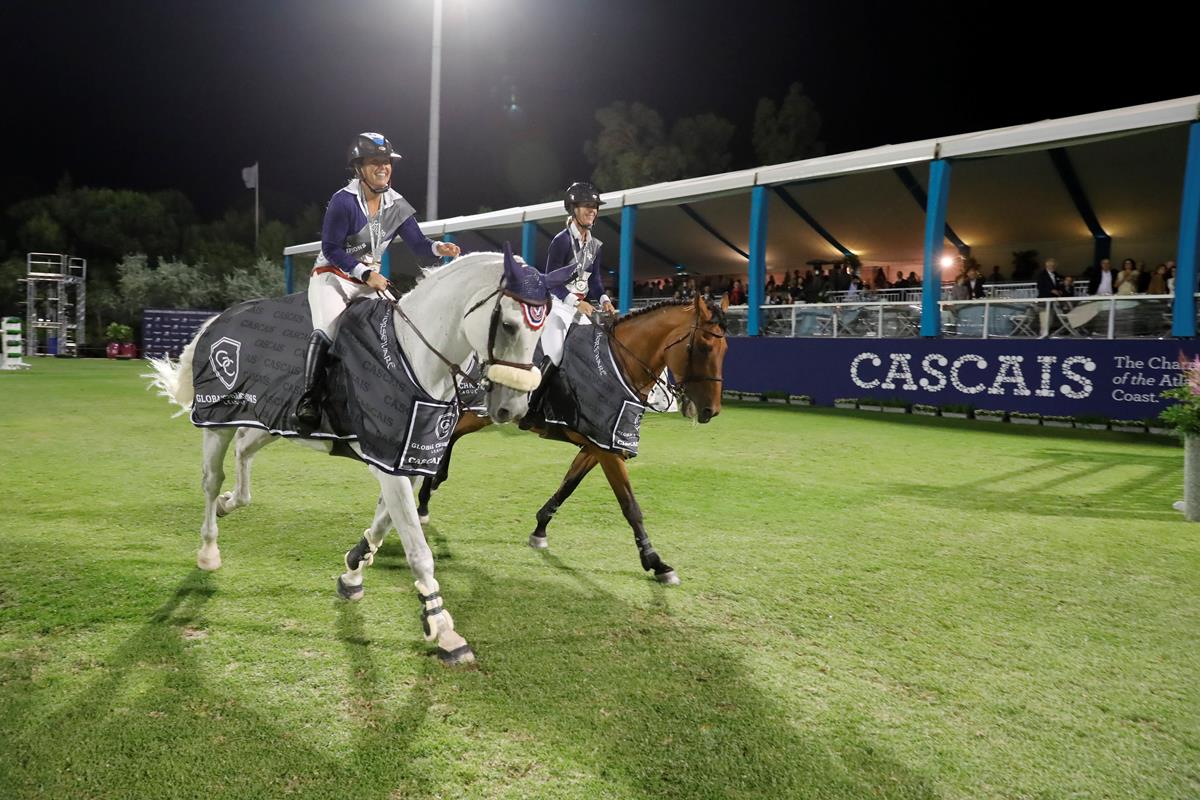 Photos: Stefano Grasso / GCL


It was a night of team drama in the 11th Global Champions League of 2016 as triumphant Vienna Eagles stole victory in high winds under floodlights on the Portuguese Riviera.

The pressure was on until the very last moment of the last round of the innovative team format as leading US rider Lauren Hough, competing with Danielle Goldstein, delivered the decisive clear round on Waterford to keep their team score on a perfect zero and propelled them into first place.

Shanghai Swans dynamic pairing of in-form Edwina Tops-Alexander and Under-25 rider Alexandra Thornton glided into second place on a team total of 5 faults pushing them up the overall championship ranking to 7th place.

Antwerp Diamonds, one of the most formidable teams in the Global Champions League series, ended in 3rd place after both Marc Houtzager and Katharina Offel had 4 faults a piece. Despite the 8 faults in total the team finished 3rd and in 2nd place in the overall ranking on 251 points.

Valkenswaard United are still leading the championship on 256.50 points despite a night of high drama with eliminations and falls in Cascais. Legendary John Whitaker toppled from his bay gelding Lord of Arabia and high winds gusting in shore from the Atlantic Ocean blew over several fences during the 1.50/1.55m competition.

Valkenswaard United's young gun Emily Moffitt played a starring role jumping a double clear for her team and showing tremendous poise in the high pressure competition at only 18 years of age. But her team mate John Whitaker clocked up 4 faults in the first round and then, in the crucial second round, had an unusual fall forcing their elimination.

The turbulent evening began when Vienna Eagles' Danielle Goldstein jumped clear, despite one of the fences being blown down by the wind, and was given a time fault. This was later cancelled as she had to re-start her round after the fence was re-built. The unusually strong gusts also blew a fence down during the round of Miami Glory's Scott Brash and the team did not make it into the second round.

Home team Cascais Charms were cheered on by local fans but experienced a tough round eventually culminating in their elimination. One of the strongest teams in the Global Champions League, Monaco Aces, also had a disappointing night being eliminated after under-25 rider Lisa Nooren took a tumble. Rome Gladiators' powerful combination of Laura Kraut and Laura Renwick also exited after a series of knock downs.

Paris Jets' Nicola and Olivier Philippaerts were placed 4th in Cascais despite finishing on a team total of 12 faults. And it was not a night to remember for Cannes Stars' Roger-Yves Bost who scored an uncharacteristic 13 faults with team mate Marco Kutscher having only one time penalty after two rounds.

But it was the Vienna Eagles who soared highest of all, taking their first win of the season. The League now looks to Valkenswaard where Ranking Leaders Valkenswaard United will hope to capitalise on their home turf.

Jan Tops, Co-Founder Global Champions League: "Duarte is not only a great friend, but he was there from the beginning, he believed in us. He was the first pioneer with us, and since then we've improved every year together. We have a great partnership and friendship. Now with the new League we're going to make it together again. Tonight was not only turbulence with a bit of wind, but also with the riding - we had an unusual three teams eliminated which we've never had before. You saw Vienna Eagles coming up today with one of the rare clear rounds, and it was fantastic to see what they did. You also have Valkenswaard United, Monaco Aces and Rome Gladiators who retired, so anything can happen. It's very close, the first five teams - there are still four legs, and it's getting closer and closer, and very exciting."

Duarte Nobre Guedes, President CSI Cascais: "For those who like sailing, it's well known that in Cascais we have beautiful weather - that's why we have so many world championships in sailing here! 10 years ago we started with a project [the LGCT], a very ambitious project - we started small and now it's world-wide known as the best, and we're very proud to be part of it. And now we have another new project that I think is very important for our sport, as it was 10 years ago with the Global Champions Tour. The League is also very important for the sport."

Danielle Goldstein, Vienna Eagles: "I hadn't jumped so many good rounds in the team, so I was hoping to go out and do a good job. We moved up a spot so that's good! With the horse I keep making one mistake, and this time I finally got out there and nailed it the way I walked it, and the way I wanted to ride it. In both rounds the horse jumped better and better I thought. I couldn't have done it without Lauren, and I was really happy with how my horse jumped."

Lauren Hough, Vienna Eagles: "We were quite motivated for this week - we had the attitude that we had nothing to loose as we were at the bottom of the pack. Dani did a fantastic job; the conditions were super difficult in the first round with the triple combination falling down [in the wind], and she really held it together. My horse jumped fantastic, it was really difficult conditions tonight but he's a brave horse. Going in last with one rail was helpful, and I'm thrilled, it was a fantastic evening. This event is one of my most favourites from the GCT series, so it's an honour to win here."

Edwina Tops-Alexander, Shanghai Swans: "We're really happy! We've come up from 10th place to 7th, there have been some changes and we have a chance to move up further. It was a lot of fun, and like Jan said there was a lot of turbulence, but that made everything a bit more exciting. Alexandra rode fantastic, and our horses jumped great so we're happy."

Alexandra Thornton, Shanghai Swans: "I think it's all the more fun when someone who's there supporting you can be there [competing alongside you] - it was a lot of fun tonight."

Marc Houtzager, Antwerp Diamonds: "I'm really happy that we got some points today for our team. We had a good run, one down in the second round, but we made a hard fight today and in the end we're really happy."

Katharina Offel, Antwerp Diamonds: "I'm also super happy with my horse - it's quite a new horse for me. Marc and I really did fight; our goal was a spot on the podium and we managed it!"



Team Riders for GCL Cascais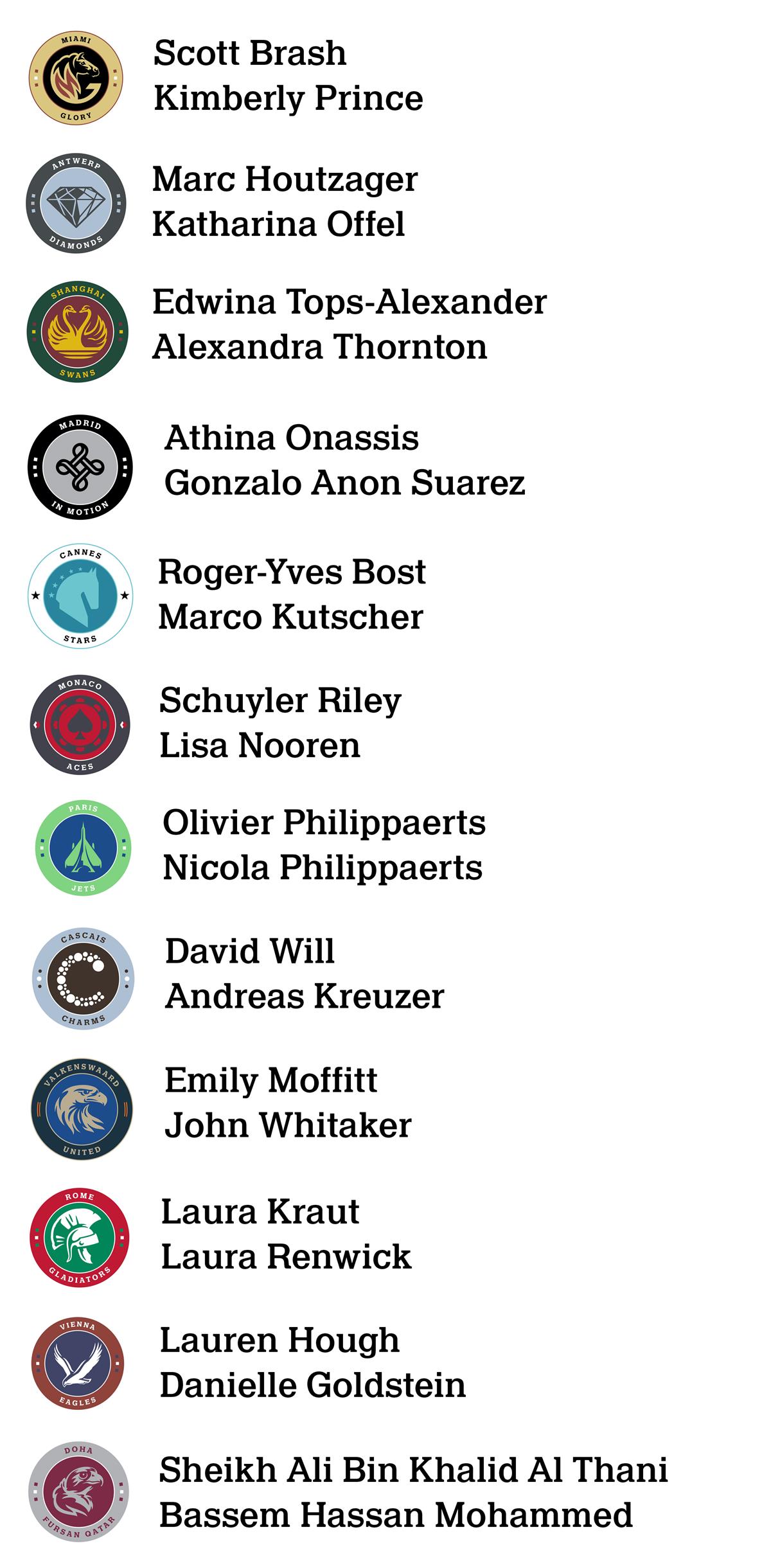 For all the information, head over to www.globalchampionsleague.com